Non-Profit School in Haiti Pledges to Honor and Support the Important work of Its Teachers
Mirebalais, Haiti November 17, 2016 – L'Ecole de Choix (The School of Choice) is participating in #GivingTuesday, a global day of giving that harnesses the collective power of individuals, communities and organizations to encourage philanthropy and to celebrate generosity worldwide.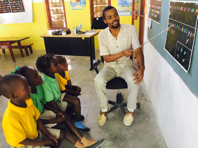 This year, the trailblazing primary school in Haiti, is leveraging #GivingTuesday to raise awareness and funds to support its teaching staff. To honor the important role teachers play in societies everywhere, L'Ecole de Choix is asking people to post on its Facebook page (@ecoledechoix) the name of the teacher who was most inspiring to them with the hashtag #GiveToTeachers, and also make a contribution to Choix in their honor. Funds raised from #GivingTuesday will be used to support the Choix teaching staff.
Occurring on November 29, 2016, #GivingTuesday is held annually on the Tuesday after Thanksgiving (in the U.S.) to inspire people to collaborate during the holiday season in improving communities and in giving back to the causes they support in ways that have an impact.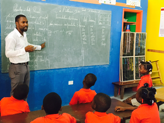 Choix will participate in #GivingTuesday by encouraging everyone to honor the important role of teachers around the world as it seeks to raise funds to support its teaching staff in Haiti. To join L'Ecole de Choix's #GivingTuesday initiative visit: www.SchoolofChoice.org/#contribute.
"We chose #GivingTuesday to remind ourselves and others of the vital role teachers play in the lives of our children – supporting teachers is the most sustainable way we can support our children and our futures," said Laura Hartman, Executive Director of The School of Choice Education Organization, a U.S. tax-exempt 501c3 organization that manages L'Ecole de Choix. "We are asking anyone who has been propelled by the passion and inspiration of a teacher to celebrate that forward movement with us on November 29. Our goal for #GivingTuesday is to raise funds to support our teachers – in the form of a living wage salary as well as professional development and additional resources so that they are able to educate the future leaders of Haiti and also contribute to the local community and economy. We hope everyone will join us in our efforts, be part of #GivingTuesday, and show appreciation for teachers of all kind."
Haiti has an average literacy rate of 53% and only half of school age children are able to attend school. Ninety percent of the schools in Haiti are operated by private entities, such as religious institutions, non-profits or other international organizations. Fewer than 30 percent of Haitian youth graduate from 6th grade. These facts underscore the vital role of teachers in Haiti.
"We have been incredibly inspired by the generosity in time, efforts and ideas that have brought our concept for a worldwide movement into reality," said Henry Timms, founder of #GivingTuesday and executive director of 92Y. "As we embark on our fifth year of #GivingTuesday, we are encouraged by the early response from partners eager to continue making an impact in this global conversation."
About L'Ecole de Choix (the School of Choice)
L'Ecole de Choix (or Choix, pronounced "schwa") began instruction in October 2011 and currently educates 180 children from grade one through six.  Its physical structures were originally funded through the players of Zynga.Org; however the school's current and ongoing operations are supported entirely through individual contributions to the School of Choice Education Organization, a US 501c3.  The vision of Choix is to develop Haitian leaders to lead Haiti and the world.  The school provides a trilingual education – with a focus on leadership development and communication skills – to children living in poverty in Haiti, while affirming their individual dignity and autonomy.  Choix believes in the paramount sustainability of education, and that by providing children access to a high-quality education Choix is helping to develop the next generation of Haitian leaders, empowering them to shape their own future, strengthen their communities, create their own choices and, ultimately, change the world.
About #GivingTuesday
#GivingTuesday is a movement to celebrate and provide incentives to give—the 2016 iteration will be held on November 29, 2016. This effort harnesses the collective power of a unique blend of partners—nonprofits, businesses and corporations as well as families and individuals—to transform how people think about, talk about and participate in the giving season. #GivingTuesday inspires people to take collaborative action to improve their local communities, give back in better, smarter ways to the charities and causes they celebrate and help create a better world. #GivingTuesday harnesses the power of social media to create a global moment dedicated to giving around the world.
To learn more about #GivingTuesday participants and activities or to join the celebration of giving, please visit:   Website: www.givingtuesday.org; Facebook: www.facebook.com/GivingTuesday
Twitter: twitter.com/GivingTues.
###
Photo caption: At L'Ecole de Choix in Mireablais, Haiti, teachers make learning fun and provide and a source of comfort, inspiration and motivation for Haiti's next-generation of leaders.
Please Contact:
Toni Sottak
Wired Island International
408 876 4418
toni@wiredislandpr.com