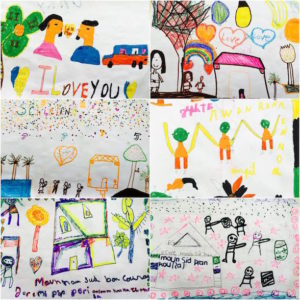 Thank you to everyone who has called and texted and sent messages of support to us as we endured Hurricane Matthew. We are so happy to report than our school and the families of our school and neighboring community did not sustain any major damage, injuries or deaths.   However, the same is not true for the rest of Haiti.
Hurricane Matthew wreaked widespread destruction and loss in parts of southern Haiti. Matthew was the first Category 5 Atlantic Hurricane since Hurricane Felix in 2007. It completely devastated communities in the south of Haiti and caused damage throughout other regions. Fortunately, as mentioned, our school weathered the storm effectively, and Mirebalais did not fall victim to significant impact aside from minor flooding.
In our efforts to ensure our direct and surrounding community was OK, Ione, our Director of Operations, contacted with all students and their families through an organized network of employees and volunteer parent committee. We offered our campus as a shelter, as all of our buildings are constructed to withstand hurricane force winds and heavy rainfall but, under these particular circumstances, our families instead preferred to remain in their own homes to protect their property and belongings.
Vital emergency supplies such as first aid kits, clean drinking water and large plastic tarps were all made available before the storm's arrival. The Central Plateau is usually somewhat protected by the large and numerous mountains on all sides of us. Mirebalais was not hit directly by the eye of the storm and thankfully no lives were lost.
Unfortunately, for those living in southern Haiti, the storm caused complete ruin.   One of our Choix board members and several of our valued employees are from the South and their families lost homes; their community completely ravaged.   Choix students learned a great lesson with Matthew – the lesson of empathy. While they were safe this time, they felt tremendous sadness for those who lost so much. Ione and the staff helped the children funnel that energy into artwork that was sent to one of the hardest-hit communities.
The old saying that it is darkest before the light comes to mind as the hurricane is gone but the rebuilding is just beginning.   A niece of the Choix board member whose family was greatly impacted has started a GoFundMe campaign to help her family recover.